Join Goose Creek AFT Today!
 Join Goose Creek AFT Today!
The new school year is here and that means our 21-22 membership window is now open! This is a full access union membership with representation, benefits, and liability coverage. You'll also get full access to our money-saving benefits & discounts!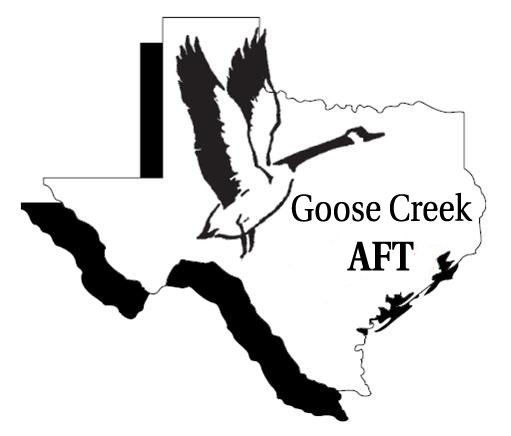 Goose Creek AFT- Your Partner for Success!
Who we are: The American Federation of Teachers (AFT) is comprised of a membership of employees from public education, higher education, state and local government and health care service employees. The Goose Creek AFT is our local union dedicated to AFT members working in Goose Creek Consolidated ISD. We have a local office in Baytown and staff ready to assist our members when they need us! The basis of any union is people joining together to ensure a united voice in the workplace. The union brings together working people with similar needs. It consists of men and women united in the common goal of achieving justice and dignity for all people in the workplace, in the community, and in the halls of government.
Our purpose
:
The Goose Creek AFT is committed to our profession. We are actively involved in improving the quality of education as well as protecting professional rights of faculty and staff at the local, state, and national levels. We stand for dignity in the workplace and improving the lives of our members, their families and the students of Texas.  
 Goose Creek AFT Goals:
Protect the dignity and rights of faculty and staff against discrimination

Ensure that educational employees in Goose Creek Consolidated ISD have an effective voice on matters pertaining to their employment

Preserve and protect the rights to which educational employees are entitled

Raise the standards of the profession by establishing safe and professional working conditions

Encourage democracy in public schools

Promote academic excellence in public schools

Initiate and support local, state and national legislation and policy making which will benefit students and educational employees of Texas

Promote and assist the formation and growth of AFT locals throughout Texas, to ensure that the voices of all educational employees will be heard
We advocate for you
:
Our members know that they can count on Goose Creek AFT for help, support and resources to ensure a safe and professional working environment as well as outstanding representation for work-related issues and concerns. Our members also enjoy a variety of discounts on good and services with their membership as well. Membership with Goose Creek AFT covers you from all corners! Our local leaders are in the forefront when it comes to local advocacy on issues that affect your job. From endorsing employee-friendly school board candidates and lawmakers to voicing the concerns of the membership to the district, Goose Creek AFT clearly and effectively advocates on your behalf. We are the largest and fastest growing organization for GCCISD employees and we invite you to join us!
Benefits of Membership
:
The most important benefit of being an AFT member in Goose Creek is the opportunity to be part of an organization made up of people who value and seek to improve the quality of education. The AFT is a powerful and respected organization in GCCISD, with all members working together to address common concerns and each member having the benefit of drawing upon the experiences and talents of other members when facing individual work-related issues.
Goose Creek AFT members receive the following benefits upon joining:
$8 million Occupational Liability Insurance policy
$5,000 Accidental Death and Dismemberment policy
$5,000 Free Term Life insurance policy for 1st year of membership
Legal Defense, representation and help for work related issues and grievances
Local, state and national lobbyists working on your behalf when it comes to issues that affect your profession.
AFT PLUS
discounts on goods and services such as, prescriptions, hotel and car rentals, loan and mortgage programs, home, auto and supplemental medical insurance discounts, Plus Many more!
Together we have a voice!
Together we make a difference!
---
---
Additional Resources